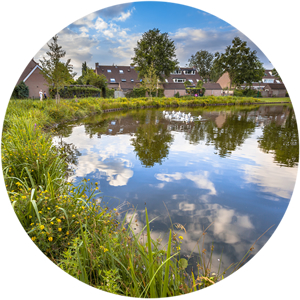 Sustainable Drainage Systems (SuDS) are critical to the success of planning applications in the UK. SuDS must be considered at all stages, from outline feasibility to detailed design features and pipework.
The challenge
Drainage is a rapidly changing space in UK planning policy. Lead Local Flood Authorities (LLFAs) in England now have a statutory role and must be consulted on all SuDS proposals for developments. Schedule 3 of the Floods and Water Management Act, announced by the Welsh Government in November, will shortly be implemented in Wales.
SuDS Approval Bodies (SABs) in Wales will be responsible for the approval of all SuDS schemes within their authoritative boundaries, and as such will be key to the implementation of Schedule 3.
Click here for the outcome of the Welsh Government's consultation process on the implementation of Schedule 3.
Key Schedule 3 changes to SuDS policy in Wales include:
Statutory National Standards on SuDS scheme design, construction, operation and maintenance will be published by the Welsh Government
SABs will ensure that all SuDS schemes meet the National Standards
SABs will adopt appropriate maintenance arrangements or ensure they are in place for all approved SuDS schemes
Construction work with impact on drainage will not start before SuDS approval
Reviews will cost a minimum of £350, increasing with site area size.
These wide-reaching changes present a challenge to LLFAs and developers alike. More detail will be required at an early stage in the planning process and more resources will be needed to implement Schedule 3. Many councils across the UK are recruiting more technical officers to assist with some of these additional duties.
WHS has provided training to many local authorities, particularly in Wales, to help prepare their teams for the technical requirements for SuDS proposal review, including plot-scale hydrology, culvert and SuDS design examples.
The way forward
Both developers and planning officials must be on the same page when designing and approving SuDS schemes. This requires close liaison and sharing of information.
Many local authorities now provide detailed checklists outlining specific requirements for SuDS design at each stage of the planning process.
Click here for Essex County Council's checklist, used recently on WHS projects.
Early liaison with LLFA drainage officers ensures that SuDS designs take local factors into account and have the maximum chance of gaining right-first-time planning consent.
The last word
WHS regularly undertakes outline and detailed designs, ranging from small developments with complex ecological needs, to large residential developments requiring careful SuDS, and foul sewerage design.
Our advice is particularly valuable to clients with complex sites requiring alternative solutions.
Click here for an example of one of our projects for Bellway Homes, where we successfully demonstrated that both fluvial and surface water flows could be managed in the same storage pond. This reduced construction cost and maintenance risk by removing the need for underground storage and associated ground raising. We agreed the approach with the local authority's consultant through close liaison.