Floods are our most damaging and frequent natural hazard. Strategic flood risk assessments give the essential overview needed to guide development choices.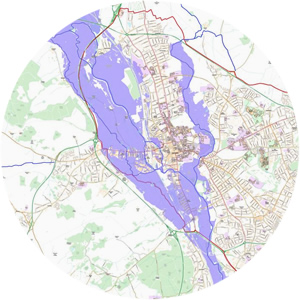 Given the significance of floods as a hazard, flood risk assessment is crucial to spatial planning, determining both the appropriate location and design of new development. All developments in turn change land use, influence runoff characteristics, storm responses and flooding mechanisms. Flood risk must be considered throughout the development process and monitored frequently.
So what is a Strategic Flood Risk Assessment (SFRA)?
An SFRA is a high-level review of localised flood risk. It assesses flood risk from all sources and reviews potential development sites in the context of this risk.
In England the National Planning Policy Framework (NPPF) requires all Local Plans to be supported by an SFRA.
An SFRA should clarify:
the risk of flooding assessed from all sources, with existing information and model data collated and reviewed
the possibility of development outside high and medium flood risk areas, based on all sources of flooding
the functional floodplain, ie. land where water has to flow or be stored in a flood event and where development cannot take place (required in England)
any areas where critical drainage problems exist and development areas which are likely to increase flood risk
any existing flood risk management infrastructure
guidance for planners on the level of detail required for any site-specific FRAs.
The SFRA should provide sufficient information to steer new development towards areas with the lowest probability of flooding. Development should not be allocated or permitted if there are available and appropriate sites in areas with less flood risk.
If, with all this information, a sequential test identifies potential allocated sites to be within flood risk areas, an exception test is needed to justify their development. This requires a Level 2 SFRA, to provide a more detailed analysis of flood risk at the specific sites.
An SFRA the WHS way
We have completed a number of SFRAs, most recently the Level 1 SFRA for Oxford, one of the fastest growing and most flood-prone cities in the UK. Guided by our experience, we:
work with local authorities and regulators from the earliest possible stage to identify local flood-risk issues, acquire relevant data, and clarify development options
keep liaising with local authorities and regulators throughout the process, providing updates on progress, and pre-empting any potential issues
use mapping software where appropriate, to identify flood risk areas and vital infrastructure clearly (this gives local authorities clear illustrations and understanding of flood risk at specific sites)
demonstrate how flood risk can be managed, as well as steering new development away from areas with high flood risk
keep our SFRAs concise, ensuring they are not policy-laden documents
ensure our SFRAs are clearly structured and easy to update as local authorities need SFRAs to be reliable, robust and using the latest available data.
The last word
"WHS provided an extremely competent and professional service at a competitive price. The project was completed on time and to a high standard. WHS actively engaged with relevant stakeholders and were always responsive to suggested comments and amendments. Highly recommended."
Planning Policy Manager, West Oxfordshire District Council, on a WHS Level 2 SFRA