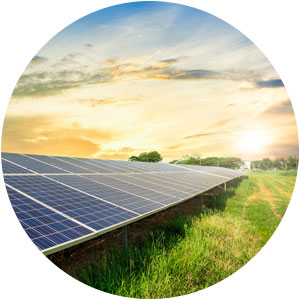 By 2021, zero-carbon power increased to nearly 50% of Britain's electricity mix, from less than 20% ten years ago. 2020 was the first year in which renewable energy overtook fossil fuels as the UK's main source of electricity.
This surge of renewable energy has been attributed mainly to the growing stability and capacity of windfarms. The UK's current Energy Security Strategy aims to increase offshore wind capacity from 12 GW to 50 GW by 2030.
Solar farms make up the second largest portion of the UK's renewable energy mix. Solar Energy UK estimates that the country's solar capacity now exceeds 15 GW. In the UK, solar farms currently amount to only 0.08% of land use, so there is huge potential for them to increase in capacity.
Analysis by Ember shows that so far in 2022, the UK has already brought online more than double last year's volume of wind and solar capacity.
Are we on track to achieve net zero?
The UK aims to reach net zero by 2050, with plans to decarbonise the electricity system by 2035, vital in the race to keep global warming at 1.5C.
Ember has shown that if all projects are approved and constructed, and a total of 90 GW of wind and solar power is added by the end of the decade, the UK has the capacity to phase out gas by 2030. Wind and solar would then supply around 71% of British electricity demand.
If these projections are met by 2030, our power generation has the potential to look like this: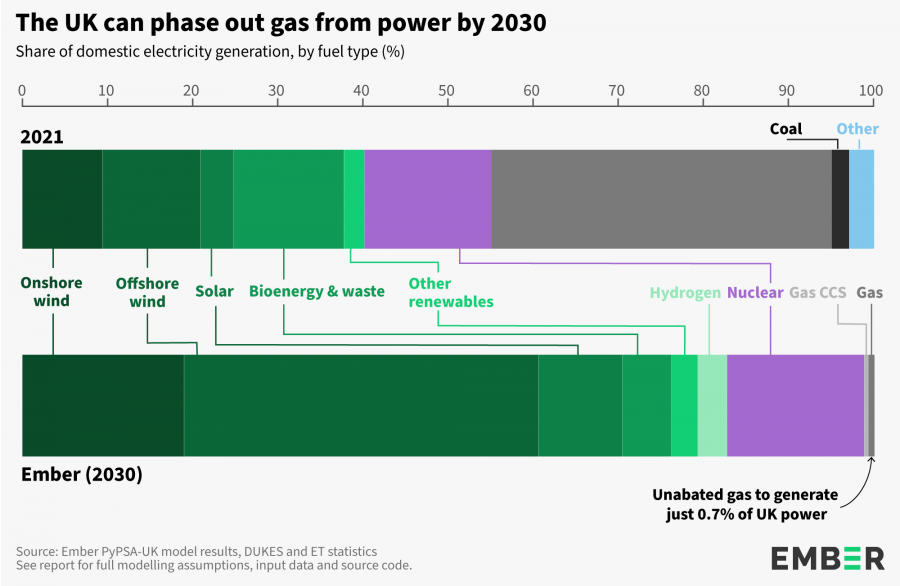 This chart shows a huge increase in offshore wind power and a decline in gas to just 0.7%.
Around 40 GW of wind and solar projects are currently either awaiting planning permission, have been granted permits or are under construction. If this trend continues, the future of wind and solar is very bright. We should hopefully meet the targets.
Wind and solar alone however, are not enough to form the backbone of our power supply. Wind power has a high variability, with energy production dependent on wind speeds. No electricity is generated if wind speed is less than about 2.5 m/s, and if wind speed is too high wind turbines must be shut down to avoid damage.
The UKCC has warned that the UK needs more and better energy storage for periods when wind and solar power generation are not possible. They warn that we are not on track and need to "introduce more challenging measures".
Britain currently has 25.4 GWh of energy storage. In 2019 we consumed 346,000 GWh of electricity, so this amounts to only 38 minutes' worth of supply. The government needs to unblock barriers for seasonal energy storage and the deployment of long-term storage, essential for future energy security.
Evolving technologies
Technologies are becoming more efficient. WHS works on several projects supporting the increased efficiency of wind and solar farms, including implementation of:
more efficient panel technology
larger wind turbines
increased battery storage.
Our main renewable energy sources must continue to improve efficiency if we are to achieve net zero.
Advancing alternatives
In order to achieve a reliable base load and increase energy security, alternative renewable energy sources must be advanced.
Other forms of renewable energy include the use of biomass; electricity generation from plant based fuels, which currently contributes approximately 13% of our renewable energy mix.
Biomass is not weather dependent and is reliable. However, controversy on the use of land for biomass production is appearing, creating tension. According to UK Climate Change Committee (CCC) projections, energy crops will need to be planted on up to 1.4 million hectares of the UK's land by 2050 to meet bioenergy demand (6% of land cover).
Aims like this may face difficulty amid growing food demand and population growth.
Other renewable energy options include hydropower, green hydrogen and nuclear power. These are all being explored, with a target of 10 GW of low carbon hydrogen by 2030.
The UK also potentially has one of the largest carbon dioxide storage capacities in Europe; the North Sea. Captured carbon could be stored under the seabed, though the wider environmental impact of all these schemes must be considered.
The last word
WHS has worked on 166 renewable energy projects throughout the UK.
The projects for which WHS offers support include:
flood risk assessments
sustainable drainage design
peat hydrology
carbon assessments
private water supply risk assessments
groundwater dependent terrestrial ecosystem assessments
water quality analysis.