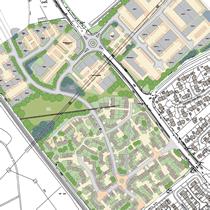 WHS has satisfied the runoff and treatment requirements in a large complex site with a combination of appropriate SuDS strategies. Biodiversity will be enhanced and local amenity enriched.
A complex challenge
A proposed 20-hectare development of mixed commercial, industrial and residential units in Retford, Nottinghamshire required a comprehensive Level-2 Flood Risk Assessment (FRA) to assess the risk from all sources of flooding.
Outline detail of a sustainable drainage system (SuDS) was also needed to support outline planning consent.
Located in Flood Zone 1, the site was seen to be at low risk of flooding from river, rain and surface water. Critically however, the site was within groundwater Source Protection Zone 3 (SPZIII), so any infiltration SuDS had to satisfy the different levels of runoff treatment required from residential, commercial and industrial areas to protect groundwater sources from pollutants.
A strategy had to be devised that would keep runoff from the site within green-field rates, minimise flood risk to adjoining residential developments, and address potential pollution issues.
Time for WHS
In the spring of 2015 Fisher German LLP did just that and we were commissioned to do the work. Working jointly with the planning consultant, masterplanners and landscape architect, WHS delivered a sustainable solution.
How we solved it
Managing surface-water runoff from this mixed development naturally required a combination of SuDS strategies.
Runoff from clean roof areas was classified as low in terms of hazard and ground investigation revealed potentially permeable material below the site. Data from the local water company also indicated extensive use of soak-aways for the public sewer system. This meant that an infiltration solution could avoid an off-site outfall altogether.
We brought together grass-lined swales, geo-cellular soak-aways and infiltration trenches to provide three levels of treatment from the industrial, commercial and residential units. This will control runoff on site and protect groundwater.
Beyond the utility of the design, its amenity was also an important consideration for WHS. The SuDS will be aesthetically pleasing and will offer multiple benefits to the local community:
offering multifunctional open green space
improving biodiversity
offering a new habitat for local wildlife.
The last word
"As always WHS provided a proactive approach and were great to work with."
Liberty Stones, Partner, Fisher German LLP
Outline planning consent was achieved on first submission of the proposals to the planning authority. We continue to have a strong professional relationship with Fisher German LLP.