The Government prioritised affordable housebuilding in the 2017 Autumn budget. Make no mistake, this will not be at the expense of water management and pollution prevention.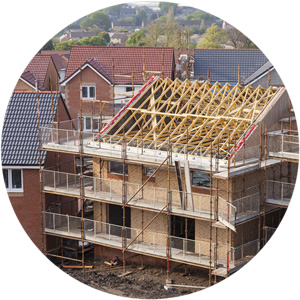 The first action listed by the Chancellor was:
"Support more housebuilding, raising housing supply by the end of this Parliament to its highest level since 1970, to make homes more affordable in the long term and help those who aspire to homeownership."
Stirring words indeed.
Crucial then, to remember that in the UK:
 "If you pollute, you could get an unlimited fine, go to prison for up to five years, or both. You may also have to pay for the whole cost of the clean-up."
The courts must also now take into account the turnover of a business, which means that large organisations can face large fines.
Developers take note
In 2016 a housing developer was fined £100,000 for their building contractor's pollution of a watercourse near Huddersfield.
The Environment Agency said that the housing developer should have "had more effective water management systems on the construction site to prevent the silty runoff from affecting local watercourses".
This should be regarded as an important warning.
Pollution prevention can't be an afterthought for housing developments. If developers, or their contractors, fail to put in place the right processes to comply with environmental legislation, developers will pay.
Because the planning process can miss things
The finer details of a housing development's drainage strategy are often a condition of planning permission. Planning permission is granted, but with a requirement for the developer to submit further detail to the local authority for approval.
Depending on the site's location and its potential effect upon waterbodies, the environmental regulators may or may not be consulted on this detailed design. The procedure differs between countries within the UK.
Questions posed by the local authority often focus on long-term sustainability, such as whether enhanced runoff from roofs, paved driveways and streets will affect downstream flood risk. This can lead drainage strategies to have weaknesses:
Designs may not address short-term sediment control or pollution prevention.
SuDS attenuation features (eg. ponds, wetlands or swales) may not be scheduled into the construction programme and connected at the start of construction.
Designs may not address the timing of outfall connection. For example, a road and its long-term drainage solution may be built during construction, but the area for proposed houses may still be under excavation, with silty runoff directed through the long-term road drainage and into the environment.
Pollution prevention during construction could arguably be a standard requirement of housing drainage designs.
So plan ahead to reduce the risk of incidents
Include pollution prevention and the scheduling of features coming online in initial drainage designs.
Agree an incident-response plan to minimise the environmental and commercial impact of any incident.
How WHS can help
WHS offers a range of services to ensure developers stay ahead.
A housing developer called us in recently, after a sediment-pollution incident at a downstream riverine SSSI. The site soils had high clay content, which once mobilised is very difficult to settle out. During construction, high groundwater levels resulted in highly turbid water being pumped from excavations, and numerous field drains across this greenfield site provided a fast route for runoff to reach the downstream watercourse.
We developed a Sediment Management Plan for the construction period and liaised with the Environment Agency to ensure their buy-in.
Our key strategy was runoff capture from construction areas as they came online and diversion through filter drains to an existing attenuation pond. Silt-control products enabled us to settle out clay particles to an acceptable level for release to the downstream watercourse.
We're providing independent monitoring of the water quality every week, on behalf of the developer, to ensure their contractors minimise the risk of a future pollution incident.
The last word
Plan ahead. It's never too early to design your pollution solution.