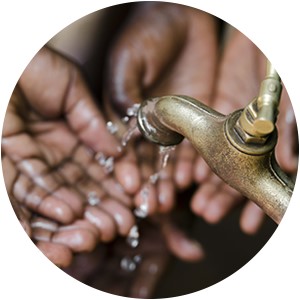 We are walking the Three Peaks Challenge for WaterAid. Help us raise funds for their vital work supporting clean water, decent toilets and good hygiene.
Access to clean water, toilets and general hygiene are aspects of everyday life that many of us don't have to think about. We risk taking it for granted.
For those deprived of these basic things, the realities are shocking:
1 in 9 people don't have clean water close to home
1 in 3 don't have a decent toilet of their own
every minute a newborn dies from infection caused by lack of safe water and an unclean environment.
WaterAid are determined to make clean water, reliable toilets and good hygiene normal for everyone, everywhere within a generation.
WaterAid was founded in 1981 by members of the UK water industry, uniting to create a single international organisation dedicated to the water crisis. The father of our founder Professor Andy Young was part of the original initiative and the charity remains close to our hearts.
WaterAid now operate in 28 countries worldwide, working with communities to understand their needs so that sustainable, low cost solutions can be provided. They also work with local and national governments in their countries of operation to develop solutions in their three key areas:
provision of clean water
decent toilets
good hygiene.
WaterAid have helped reach an astonishing 25.8 million people with clean water.
There is much work still to be done and 2.3 billion still require access to toilets.
The impact of poverty, conflict, climate and natural disasters make work in developing countries extremely difficult without the help that WaterAid can offer.
WHS supports WaterAid
In 2018, when we became employee owned, we committed to donating a percentage of our future profits to WaterAid and to raise money for WaterAid in other ways.
Our work is also closely aligned to WaterAid through our focus on the water environment and development of hydrological tools. We are a sustainable and environmentally conscious company and we are proud of our ISO14001 certification. We aim to promote the concept of sustainable development.
Our first charitable event: the National Three Peaks Challenge!
This coming weekend, we walk the talk!
We will start at Ben Nevis on Friday evening, before making our way to Scafell Pike and finishing up on Snowdon, all in 24 hours.
The team is mainly WHS employees, with a few friends and family. They've been busy training over the past few months.
The last word
Wish us luck, support us if you can and look out for our next newsletter issue in the Autumn where we will feature a blog written by the climbers themselves!
If you haven't done so already, please visit our JustGiving page.
And please go to the WaterAid website to learn more about their crucial work.