WINFAP 5
WINFAP 5 enables you to estimate peak flows and flood frequency curves for gauged and ungauged catchments, using the latest Flood Estimation Handbook (FEH) methods.
At an ungauged site you can automatically create a pooling group of similar gauged sites based on comparison of FEH Web Service catchment descriptors.
At a gauged site you can apply flood frequency analysis techniques to gauged annual maximum and/or peaks-over-threshold flood peak data where available. Flood frequency curves are created by analysis of the pooling group flood peak data.
WINFAP 5 was developed by WHS to implement a range of the industry-standard FEH statistical analysis tools. It uses the latest FEH methods to provide estimates of peak flows and flood frequency curves for gauged and ungauged catchments.
See What's new in WINFAP 5? and In-depth for additional functionality and scientific advances. For further information, see our openly published online technical guide and supporting science reports here: https://winfapdocs.hydrosolutions.co.uk/.
WINFAP is available on an annual subscription, activated online with a serial number. It can be licensed either for standalone/single PC use, or as a multi user/network licence through our reseller Jacobs. See Licensing for details.
If you would like to purchase a multi user/network WINFAP licence visit our reseller Jacobs here.
WINFAP 5 uses the new NRFA Peak Flow catchment descriptor xml files, and has improved data auditing functionality. WINFAP 5 does not support old Peak Flow Datasets (version 9 and earlier) nor WINFAP 4 project files (.feh4). To allow continued use for existing studies, the legacy WINFAP 4 can be installed alongside WINFAP 5 and we currently issue WINFAP 4 serial numbers with each WINFAP 5 purchase.
Keeping up to date – Please register with the WINFAP user group to be notified of product releases. If purchasing on behalf of the user, please ask them to register.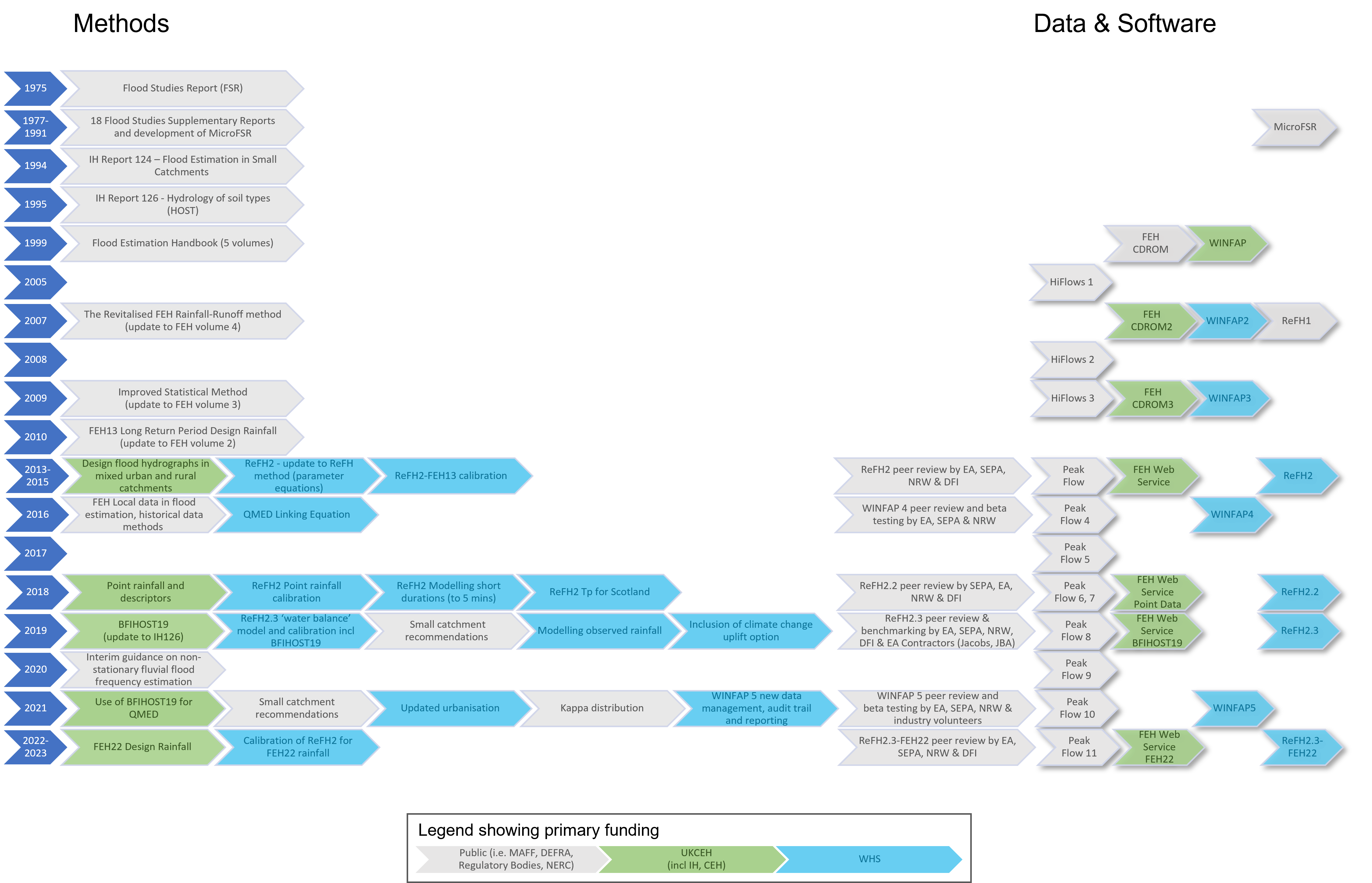 Read our article on the history of the FEH, current user requirements and our vision for the future. It includes a full timeline from the 1975 FSR to the latest FEH method developments, and we talk about the openness of FEH methods and how access to FEH has increased in recent years.
Current WINFAP Offers
Five WINFAP Licence Deal – For every 5 WINFAP licences purchased, you will receive one of these licences for free. The discount will be applied automatically to your basket.
Existing WINFAP-FEH 3 customer? We're pleased to offer a free 1 year WINFAP subscription for you and up to 4 of your colleagues. To take advantage of this offer, please Contact Us to arrange this, including posting back your WINFAP-FEH 3 dongle.
---
---