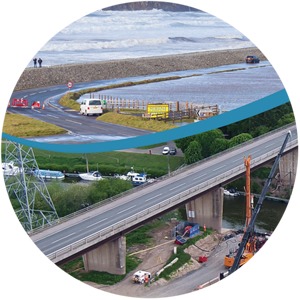 We're pleased to announce that WHS, Burroughs and TACP have formed a new Flood Risk Management (FRM) partnership.
We have worked with Burroughs and TACP on several major transport infrastructure projects that have included flood risk management measures. We have always worked very well together and, after the significant flooding in February, we decided to 'tie the knot' so that other clients can benefit from our proactive approach.
The partnership provides a one-stop shop, combining the benefits of SME agility, client focus and technical expertise.
Our range of activities spans the full project life cycle, with services including:
Flood risk modelling and feasibility
Options appraisal
Outline and full business-case development and approval processes
Environmental assessment
Flood regulatory approval
Planning approval and condition discharge
Ecological mitigation
Licensing and consents
Detailed design of sustainable civil engineering solutions
Procuring competitive and high-quality contractors for implementation
Overseeing contracts and construction of efficient, innovative solutions
Environmental site supervision
WHS is well known as the developer of flood flow assessment methods and tools used throughout the UK. We build on our national credibility to work closely with flood regulators during scheme development.
"WHS provided friendly and professional expert advice. They have very good working relationships with the design team and key stakeholders. Gaining the confidence of the EA, particularly in agreeing mitigation measures, allowed the scheme to progress through a successful planning application on a fast track programme."
Richard Bruten, Major Projects Director, Alun Griffiths (Contractors) Ltd
Burroughs is an award-winning independent engineering and project management consultancy, proud to have been instrumental in shaping an exciting and diverse mix of infrastructure and civil engineering projects.
"To know that the likelihood of this road flooding in the future is dramatically reduced, is fantastic. I would like to personally thank the project team for their hard work and dedication in delivering this complex scheme."
Councillor Tony Miller, Worcestershire County Council
TACP is an interdisciplinary environmental consultancy widely recognised for their innovative yet pragmatic solutions. Established in 1906, TACP brings considerable experience of working in sensitive ecological and historic landscapes throughout the UK.
Our joint projects to date
Northern access road for St Athan, including design of flood attenuation measures and fish passage through a culvert.
Flood risk study for Rhyl Cut and Prestatyn Gutter.
Business case for the Llanfairfechan, Kinmel Bay and Llanddulas coastal flood defences
Link road for Southern Worcester, including a flood storage feature, combing flood mitigation with biodiversity benefits and options assessment to reduce flooding at Powick.
Flood resilience scheme for Upton-upon-Severn, reducing flood risk to the road network.
The last word
Historic levels of rainfall and increasing frequency of storm events, together with climate change, create unprecedented levels of flood risk for our communities.
The new partnership of WHS, Burroughs and TACP can carry flood risk management forward into a challenging future.