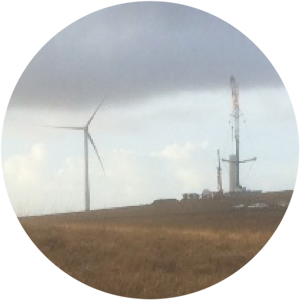 Wales has huge potential for wind power. The impact of wind farm construction and operation on water supplies must be well understood and managed.
In 2017, the Welsh government announced its intention to generate 70% of its energy consumption with renewable technologies by 2030. They are working with selected developers across Wales to achieve this goal.
Wind power already has the largest installed capacity of renewable technology in Wales, with a 54% increase in capacity registered between 2014 and 2017.
Through the Wind Energy Programme, the Welsh government is working with Natural Resources Wales (NRW) to develop six major onshore wind sites, with capacities from 57 to 228MW.
The scale of wind farm development being undertaken makes it essential to monitor and mitigate any impact they may have on the quality and quantity of water supplies.
It is vital that water supplies are not compromised.
Understanding the issues
Wind farms are most likely to have impact on water during the construction phase.
Sediment can be increased by disturbed ground, excavations and temporary stockpiles, and mobilised by runoff and precipitation. This colours the water and introduces other dissolved contaminants.
Runoff from peat can be acidic, increasing the leaching of contaminants.
Groundwater flow through the subsurface can be affected by excavations, as can surface runoff diverted in track drainage.
Spillage and leakage of hydrocarbons from heavy-load vehicles and cranes on site can result pollutants in groundwater and runoff.
Many of the potential impacts of construction can be managed with good practice, and mitigated appropriately when needed..
How WHS can help
WHS is monitoring water quality of private water supplies and watercourses at Innogy's Brechfa Forest West and Mynydd Y Gwair wind farms.
Brechfa Forest West, in south Wales, completed construction this summer.
Mynydd Y Gwair is still in construction with the turbines currently been lifted into place.
Mynydd Y Gwair is located in the catchments of numerous private water supplies, as well as the Lliw Reservoirs, which supply the Felindre Water Treatment Works (Critical National Infrastructure essential to the delivery of public water for the region).
Our work is in three main phases.
Before construction – baseline monitoring to understand the existing hydrological environment.
During construction – monitoring immediate impacts and comparing results and trends with baseline data.
After construction – monitoring longer-term impacts.
We carry out monthly site visits to:
collect samples from watercourses and private water supply sources, from wells to kitchen taps
meet local residents to hear any concerns they have and feed them back to the developer so they can be resolved.
We send the water samples to a UKAS-accredited laboratory where they are tested for a range of chemical characteristics, including turbidity and suspended sediment, and the presence of metals and hydrocarbons.
We compare the monthly test results with the guidance in the Private Water Supplies Regulations (2017), which outlines allowable limits for safe drinking water.
We discuss any issues arising from the test results with both the developer and local residents so that they can be resolved as soon as possible. This ensures compliance by the developer and satisfaction for local residents.
"I must thank you for all the help and support you've provided over the years."
Innogy
The last word
Renewable energy targets in Wales and the wider UK must be achieved and the demand for onshore wind is ever increasing.
Wind power development must go hand in hand with safe and sufficient water supply.