Issued: April 2016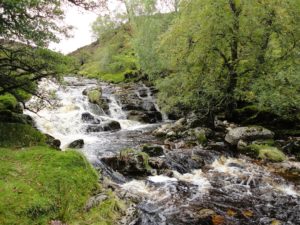 Development invariably affects the local movement of water, particularly in rural, upland and river locations. Measures to reduce the impact of development in these challenging environments, as elsewhere, must be well-founded, practical and cost effective.
WHS is a small, cost-effective organization. We punch above our weight.
Although we are small, we cover it all, and our knowledge and skills are second to none. Our own hydrological research underpins the industry-standard software we have developed, and assures an exceptional relationship and credibility with SEPA.
Our scale is our strength in working closely with clients. We focus on precise requirements and work alongside project teams, providing integrated responses, whether in demanding field sites, or analysis and liaison with stakeholders. Our one-stop-shop approach delivers within budget and operational constraints.
WHS services in Scotland are based in Perth. We have provided solutions for a wide range of clients, including developers, distilleries and local authorities.
Our work has included:
Flood risk assessments (FRA) and sustainable drainage systems (SuDS) Drainage and surface water management are essential to prevent construction sites from reducing local water quality and increasing flows. In rural and upland locations, access can also often be difficult. We critically assess the risks and our pragmatic designs enable clients to use compact plant machinery.
Compiling environmental statements and reports Depending on client needs, we can gain regulatory approval by bringing together environmental statements and reports for planning applications, or we can provide specialist input in preparing the hydrological and hydrogeological chapter as part of a multi-disciplinary team.
Attending public inquiries as an expert witness In 2016 WHS Director Judith Jeans was an expert witness for a ~60 MW wind farm in the Highlands and a ~48 MW wind farm in South Wales.
Aquatic surveys WHS has developed a combined fish habitat and river geomorphology survey methodology, saving on both travel costs and reporting time. We've used this to assess the potential ecological and physical impacts of low-head and high-head (>100kW to 5MW) hydro schemes across Scotland. We have also been assessing changes in humidity and water level with flow on a large scheme in a gorge, to address Scottish National Heritage concerns regarding bryophytes. We have assessed numerous weir pools to check the potential impact of low-head schemes on coarse fish spawning, resulting in the removal of objections based on European Water Framework Directive (WFD) concerns.
Monitoring river flows We have unparalleled expertise in determining long-term river flows using a mix of hydrological modelling and at-site measurement. Our flow monitoring services have gained SEPA approval for over 100 hydropower schemes and other abstractions including fish farms. We have gained planning permission for discharge consents blocking large housing developments, provided critical hydrological evidence for distilleries seeking planning permission, negotiated with SEPA, addressed licence-compliance requirements for Scottish Water, and provided supporting evidence for ecological impacts.
Assessing the impact of developments on peat Disturbance of peat may result in instability, drying and oxidation of the peat, as well sedimentation and acidification of the draining catchments. We have conducted numerous peat surveys, peat management plans and risk assessments, carbon calculations and impact assessments of groundwater dependent terrestrial ecosystems (protected under the WFD). These have resulted in the removal of objections for construction within peatlands.
Preventing pollution with construction and environmental management plans We have developed plans to address all concerns raised by SEPA, SNH and planning authorities, as well as objectors to major infrastructure projects.
The last word
'I just want to record my thanks for your input. It was quite an intensive timescale, and everyone worked very hard to tight timescales. I think it went well and that is due to the dedicated professionalism of you all and great team working.' RES
WHS offers an exceptional combination of wide-ranging specialist skills, localised knowledge and the development of industry-standard software tools for the UK. We have a high reputation with regulators, because of the scientific depth and quality of our work.
WHS solutions ensure planning consent and regulatory approval.