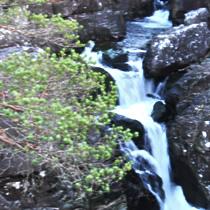 The River Grudie hydroelectric scheme is under construction. The success of this remote and sensitively located development has demanded the expertise of the entire WHS team over seven years.
Seeing it through from the start
In 2009, Innogy commissioned WHS to assess the feasibility of developing a run-of-river hydroelectric scheme on the River Grudie near the village of Kinlochewe in Wester Ross. It is a remote location with particular environmental sensitivities.
Our own LowFlows software provided initial estimates of the water available. Given the scheme's expected maximum generating capacity of 2 MW, defining it as a large development under OFGEM FIT guidelines, SEPA then required on-site hydrological monitoring to corroborate the first desk-based assessments.
We installed a monitoring station and carried out monthly hydrometric site visits for five years to measure river flow and download river-level data. Annual estimates of resource availability were derived from this, and informed expectations of generating capacity and likely income from FITs.
The size of the scheme in turn made Environmental Impact Assessment (EIA) mandatory. Our key involvement in resource estimation, familiarity with the proposed scheme and understanding of the local area lead to WHS taking a vital role.
Integral to the EIA team, we assessed the hydrological, geomorphological and ecological impacts of the scheme. Surveys headed by the WHS team included:
fish habitat and electric fishing
macro-invertebrates
geomorphology.
The resource estimation results from our hydrometric site visits, combined with the information gathered during the EIA, guided the scheme's design.
Through diligent surveying, analysis and reporting, and working with Environmental Resources Management (ERM) and Innogy in-house engineers, we helped to ensure that a sustainable and environmentally friendly solution was developed. The design of the River Grudie hydroelectric scheme is sympathetic to the environment. Potential impacts on local habitats and ecology have been minimised through refinement of the tailrace location and the implementation of pollution prevention measures and a sediment management plan.
… to finish
Construction of the River Grudie scheme began in January 2016 and WHS still has a central role.
We are monitoring flows at the tailrace of the powerhouse as part of the development process, to see if flows surpass a given flood flow during construction. Working in or near rivers always carries a degree of risk and that increases with high flows. Innogy and their contractor, Farrans, will delay construction tasks when the flows exceed that identified flood flow.
The last word
SEPA granted a CAR licence in July 2013. Full planning approval from the Highland Council followed in September 2014. Both applications were successful on first submission.
Innogy and ERM were pleased with the diligence and expertise of WHS and our ability to collaborate efficiently and effectively with their teams.
By commissioning WHS to undertake both the hydrometric site visits and the EIA tasks, Innogy also made significant cost savings.