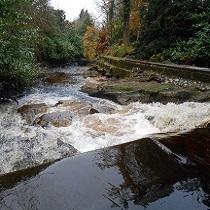 Scotch whisky production is the third biggest industry in Scotland. It is worth more than £5bn for the UK economy and growing fast. Can available water resources cope with demand?
Water is critical for many aspects of production, but mainly for cooling during condensation (85%).
With global demand growing, questions have been raised at Government level about the sustainability of water extraction for this industry and are a primary concern for producers too.
The distilleries recognise that good water-resource planning is essential to ensure sustainable production methods and achieve good ecological status.
Accurate assessment of natural variation in river flows is needed, but very little flow measurement has ever been carried out in the springs and burns from which distilleries abstract water. It's a challenge – average annual flow can vary by 30-40% from year to year and the difference between maximum and minimum flow in a year can be 1000%!
Because of this, regulatory abstraction limits err on the side of caution.
The Water Environment and Water Services (Scotland) Act in 2003, implemented through the Controlled Activities Regulations (CAR), limits abstraction to meet the requirement of the EU Water Framework Directive that "good ecological status is maintained or met through future measures". The Scottish Environment Protection Agency (SEPA) and abstractors are negotiating measures to meet this core requirement in burns and rivers that currently fail to meet 'good status'.
The whisky industry is also not exempted from the "Water Resources Scotland Act 2013", which brings large-scale water abstraction under ministerial control, adding further pressure.
Time for WHS
WHS has been providing the evidence needed by distilleries to manage their water resources and negotiate with regulators, now and in the future with the impacts of climate change.
Our work has included:
Stream flow and temperature monitoring above water intakes for various whisky distilleries across Scotland for periods of 12 months. These have been informing CAR licence discussions.
Analysis of at-site monitoring data in conjunction with flow data from gauging stations operated by SEPA (using techniques agreed with the SEPA) to provide best estimates of water availability (the Flow Duration Curve) to underpin CAR licence negotiations.
Developing easy-to-use methods for distilleries to identify periods when there might not be enough water for their cooling-water needs, and how this may be affected by climate change.
Results: Distillery managers have:
evidence to underpin regulatory negotiations on current abstraction limits
a way to assess the risk to production of not having sufficient water in dry years
evidence for investment to ensure production targets won't be limited by water availability.