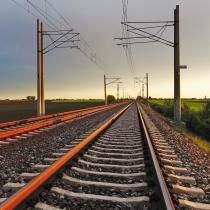 Much of the East West railway project, with significant engineering including embankments, new bridges and tunnels, is located in flood prone areas of the River Thames floodplain. It is crucial that the development doesn't increase flood risk.
Time for WHS
WHS needed to assess the flood risk and surface water drainage along the Oxford to Bicester section, and produce a management plan with mitigation measures to ensure that the project would not worsen existing flood problems and new assets will not risk failure.
Environment Agency Flood Maps have been known to provide conservative estimates of flood extent due to the modelling techniques used. We recommended remodelling the flood plain in a number of locations that would benefit from more accurately informed flood predictions.
Our detailed modelling demonstrated significantly reduced flood depths and extents.
In particular, planned compensatory storage close to a Scheduled Ancient Monument was reduced and relocated to an existing storage site. No further flood mitigation works were needed and expensive and time-consuming work was avoided.
Our modelling was reviewed approved by the Environment Agency and we continue to advise Network Rail and Carillion Buckingham.
Results: Project savings of over £100K for Network Rail, including:
reducing the constraints to embankments strengthened to allow for a higher speed service
closing a disused underbridge in the floodplain of the River Cherwell, downstream of Kidlington.
The closing of the underbridge will also hold back floodwater, slightly reducing predicted flood levels at nearby farm buildings.
"WHS have provided expert advice, have very good working relationships with key people at the Environment Agency and have already saved the project about £100K."
Karsten Scholer, Bid Manager, Network Rail