What's New in WINFAP 5.1?
The latest update to WINFAP is available for download here.
The updates in WINFAP 5.1 are focused on providing additional information for gauged data, the ability to add user comments, functionality to estimate the return period from flows (and vice versa) and enhancements in the presentation and reporting of results. There have been no method updates in WINFAP 5.1.
Additional information and user comments
The following information is presented in the Suitability tab for the QMED Donor adjustment and Growth Curve pooling group tables. A screenshot is shown below.

Estimating the return period from flows and vice versa
You can now estimate the return period from flows and vice versa from the Flood Frequency Curve Fittings table on the Pooled & QMED analysis dashboard.
Data visualisation enhancements
The new powerful and interactive graphics provide clearer graphs and the ability to query the data presented, including the catchment descriptor histograms, station record graphics, flood growth curves and flood frequency curves.
Examples of the L-moments graphs from the Station Record Parameters and the FFC graph are presented below. These illustrate the tool tips that can be used to query the data presented.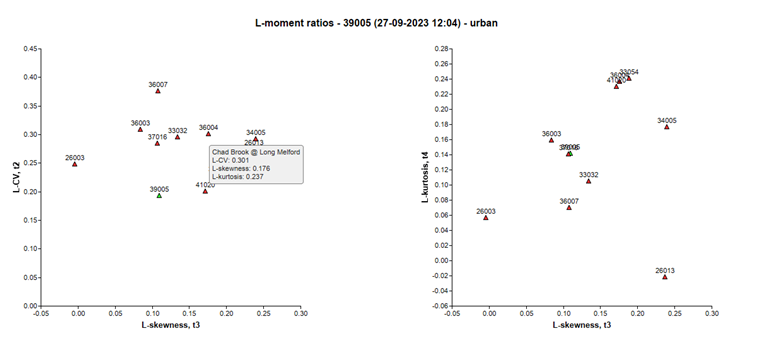 Report enhancements
The new pdf report incorporates the Pooled & QMED Analysis results, including main graphics and graphs, as well as user comments.
New in WINFAP 5.0 (Released September 2021)
Method Updates
Incorporation of the BFIHOST19 descriptor in QMED estimation.

See Griffin et al., 2019 for more information on the development of this index. BFIHOST19 is included in the FEH Web Service catchment descriptors.

Implementation of the Small Catchment pooling group procedure and QMED donor adjustment.
Addition of the Kappa 3 distribution for growth curve fitting.
Updated application of urbanisation and deurbanisation adjustment procedures. This includes:

Pooling group L-moments can be deurbanised. This allows the estimation of the 'rural' growth curve using 'as rural' L-moments in the pooling group.
L-moments from at-site data can be deurbanised, if required, prior to use in the Enhanced Single Site method to estimate the 'rural' growth curve.
Rural QMED for gauged sites is, by default, estimated by deurbanising at-site observed data.
User settings for deurbanisation of data for QMED and the Growth Curve are now independent of one another.
Data Management Enhancements
Support for new catchment descriptor XML file for both the Site of Interest and the NRFA Peak Flow Dataset.
Ability to make project-level alterations to the Peak Flow stations without compromising the integrity of the NRFA Peak Flow Dataset(s).
Customised station data can be imported and exported for sharing and re-use across projects via use of a supplementary folder and the new Station Manager.
Improved project file format encapsulates the entire state of a project, including custom station data, allowing projects to be distributed and co-authored with confidence.
A comprehensive html report contains ESS/Pooled Estimation Analysis key results, parameters and modelling decisions, which can be imported directly into MS Word or pdf. (Note significant additional reporting enhancements have been subsequently incorporated in WINFAP 5.1)
Improved copy and paste for graphs and tables. (Note significant additional graphical enhancements have been subsequently incorporated in WINFAP 5.1)